Sheaves
MasterDrive® offers a complete line of single and multi-groove sheaves, from bored-to-size and H bushed, to heavy duty QD sheaves. MasterDrive® Inc. sheaves and bushings are manufactured to meet or exceed the current ASTM/SAE specifications for gray iron casting.
Sheaves are accurately machined from gray cast iron, statically balanced, painted and individually packaged. All are furnished with standard keyways and set screws. All set screws are 5/16-18 knurled.
Sheaves are phosphorated before painting to prevent rust and increase cohesion between paint and metal. The durable, machine gray, baked enamel outer finish offers a long-lasting clean appearance.
All sheaves are balanced for smooth trouble free operation.
Bushings
Features
QD bushings are available in all letter codes
Double-split taper bushings, interchangeable with industry standards
TB bushing numbers from 1008-5050
All of our bushings are stocked in inch and metric sizes.)
All bushings are manufactured to MPTA standards.
Timing Pulleys
Features:
Available in MPB and TB bushed.
Available in L Pitch, 1/2", 3/4" & 1" Widths
Available in H Pitch, 1", 1-1/2", 2" & 3" Widths
Available in "L" and "H" timing belts with lengths from 10" up to 176".
Interlocking teeth of pulley and belt provide no slip and minimal backlash.
Low maintenance
No lubrication required
Reduced belt tension resulting in lower overhung loads on bearings and shafts
All timing pulleys machined from cast iron, statically balanced, painted gray and
individually boxed
Other materials and finishes available
Double-sided available in most sizes from stock
Polyurethane available for "L" pitch only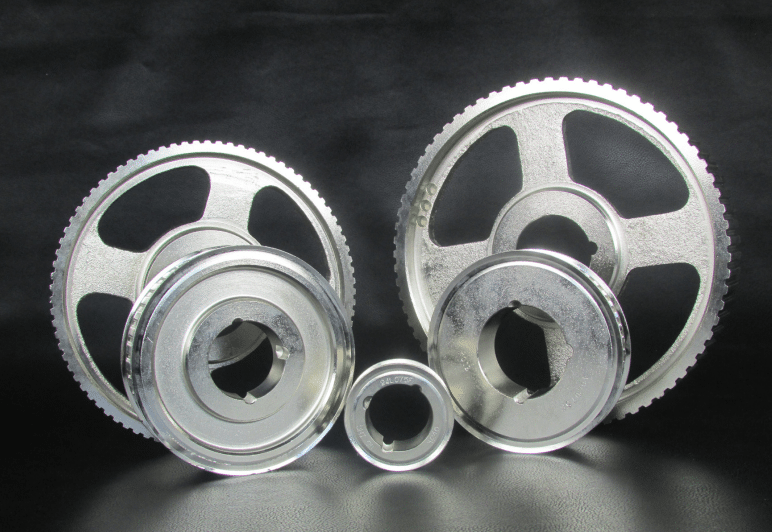 POWER TRANSMISSION COMPONENTS FOR DISTRIBUTORS, OEMs AND END-USERS
Head Office & Distribution Centre
1111 Flint Rd., Unit # 16
Toronto, Ontario
M3J 3C7
Phone: (416) 736-4972
Toll Free: (877) 625-2358
Fax: (877) 786-9991
After Hours: (416) 434-6391
Email: info@ptmindustries.com
Western Canada Distribution Center
Unit 8, 10221 15th Street NE
Calgary, Alberta
T3J 0T1